An Evacuation Order Expansion and a BC Emergency Alert has been issued by the Thompson-Nicola Regional District due to the Ross Moore Lake wildfire. Impacted residents should evacuate the area immediately.
Alert Message
BC EMERGENCY ALERT issued by TNRD due to wildfire.
Evacuate immediately if you are in the following areas: Lac Le Jeune, areas west of Highway 5A from Napier Lake to south of Knutsford Campground, Long Lake Road and other areas areas south of Goose Lake Road. See map for details.
The Ross Moore Lake wildfire poses a threat to human life.
Evacuate north to Kamloops. If your primary residence is evacuated, register for support online and report to the Reception Centre at
1655 Island Parkway, Kamloops
. If you are unable to evacuate call 9-1-1.
---
Recommended Actions
Refer to the Evacuation Order map (PDF) to confirm if this Evacuation Order applies to you: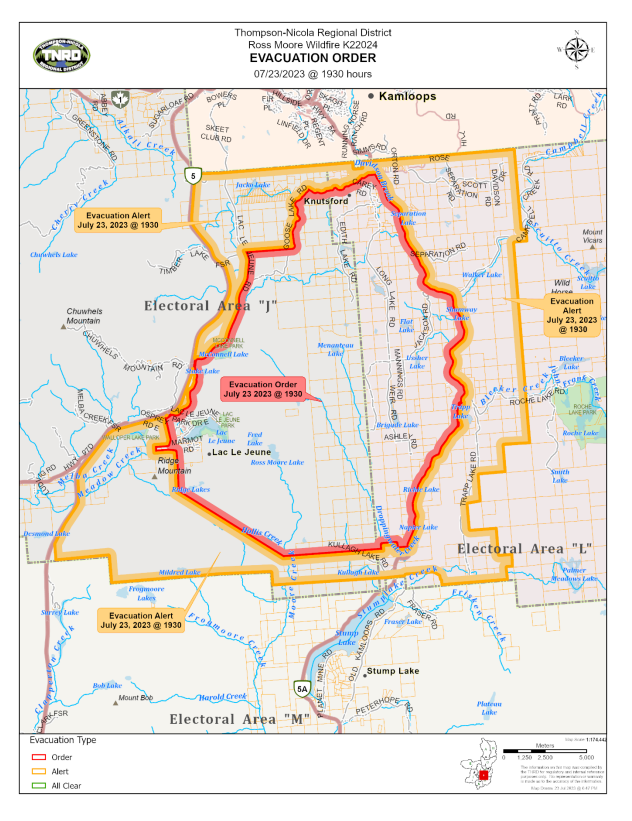 If you are in the impacted area:
Stop what you are doing and follow the directions provided
Follow all instructions from local officials
Evacuation route: Evacuees should evacuate north to Kamloops.
ESS Emergency Reception Centre:
Do not call 9-1-1 for additional information. Only call 9-1-1 if you are unable to evacuate
Make arrangements to stay with family or friends (if possible).
Gather family; take a neighbour or someone who needs help.
Take pets in kennels or on a leash.
Take critical items (medicine, purse, wallet, keys) only if they are immediately available.
---
Resources
This BC Emergency Alert was broadcast on TV, radio and to compatible and connected cell phones in and near the impacted area. These messages are geographically targeted, but may also reach residents in surrounding areas. If you are not in the affected area, disregard this Alert.